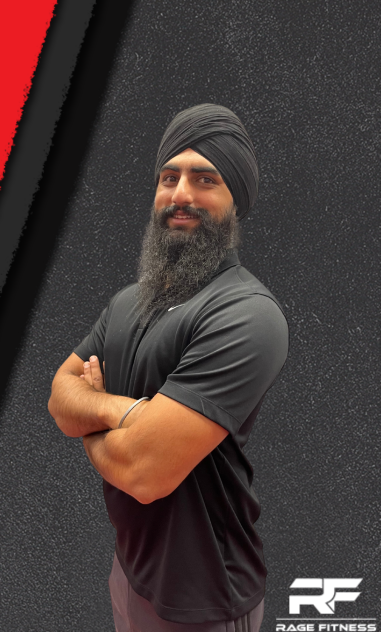 KARANDEEP
Personal Trainer
Karandeep is a highly experienced and dedicated personal gym trainer with a passion for fitness. With over two years of experience in the industry, he has guided and motivated numerous individuals towards achieving their fitness goals and improving their overall well-being.
Karandeep holds a degree in Physical Education, which has provided him with a strong foundation in exercise science and nutrition. Additionally, his personal background as a national-level basketball player has further enhanced his understanding of physical fitness and athletic performance.
Karandeep prides himself on his ability to create customized fitness programs that cater to the unique needs and preferences of his clients. Whether the objective is weight loss, muscle building, or athletic performance improvement, he designs comprehensive training routines that yield maximum results. Karandeep incorporates a diverse range of training methods to ensure a well-rounded and effective approach.
Clients can feel secure knowing that Karandeep possesses the necessary knowledge and skills to handle any situation that may arise during their training sessions.
PERSONAL TRAINERS: BUILD YOUR BRAND
If you are a certified personal trainer and looking to build or grow your own personal training brand, partner with the health and Fitness community at Rage Fitness. Benefit from the insight and experience of our team of trainers, coaches, nutritional experts, and wellness professionals, and offer your own personal clients the opportunity to train at one of Calgary's top private personal training studios and wellness centres.
Connect with the team at Rage Fitness to learn more about our contractor program by calling 1-825-945-7733 today.
Personal Training
Your health and fitness goals are extremely personal. Your journey to achieving your goals can be too. A personal trainer can create a completely customized strategy to take you from where you are right now to where you want to be with programs tailored for fitness, nutrition, and accounta
THE RAGE FITNESS TEAM
Our building is a world-class facility offering top-of-the-line equipment and varied opportunities for fitness training. But the true value of the Rage Fitness difference is our outstanding team of certified personal trainers. Our trainers are committed to education and excellence and the relentless pursuit of your goals for health. Meet our superior team of trainers here.
CHOOSE RAGE FITNESS
If you are seeking to lose weight, increase your physical fitness, or transform your body and your life with a superior personal training experience try Rage Fitness, With some of Calgary's top personal trainers, the team at Rage Fitness is standing by to guide you on your journey to comprehensive wellness. Find out more by calling 1-825-945-7733 today.