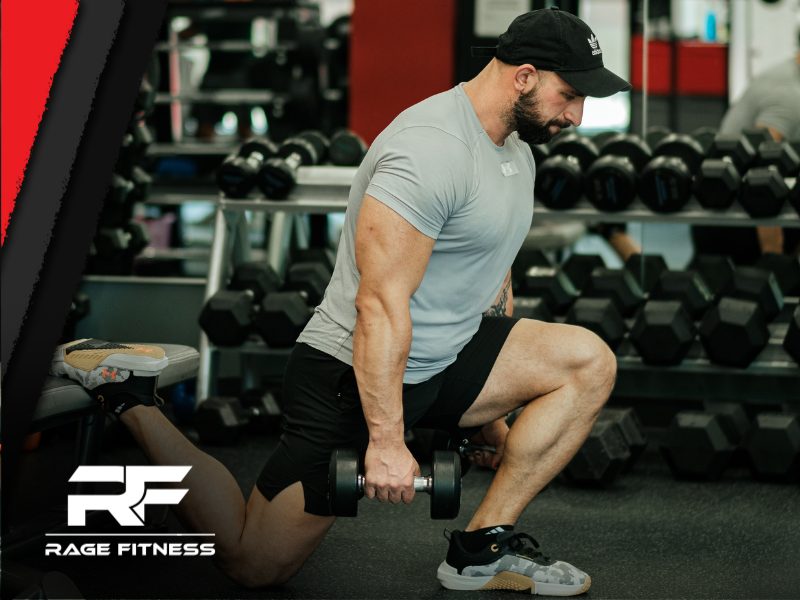 Rage Fitness private personal training studio is a world-class facility, but our biggest strength is the quality of our personal training team and their commitment to helping you reach your goals for fitness, weight loss, and healthy living. The Rage Fitness team are some of Calgary's top certified personal trainers. We have a passion for health and physical activity and are committed to providing a comprehensive and outstanding training experience that is totally personalized as we guide you to meet and exceed every single one of your fitness and health objectives. Team up with the Rage Fitness team and take the journey to become the best version of yourself.
THE RAGE FITNESS TEAM
Our building is a world-class facility offering top-of-the-line equipment and varied opportunities for fitness training. But the true value of the Rage Fitness difference is our outstanding team of certified personal trainers. Our trainers are committed to education and excellence and the relentless pursuit of your goals for health. Meet our team here.
The Benefits Of Partnering With A Personal Trainer
There are many benefits to partnering with a personal trainer on your journey to health and fitness success:
A customized, tailored experience: Your personal trainer can assess your current fitness levels, weight, physical and mental state and help you set goals. They will customize a workout program, eating plan, and mindset strategy to take you to where you want to go.

Safe, engaging, and effective workouts: Your trainer can design an exciting workout plan that will help you optimize your time to reach your goals quickly and efficiently with workouts that are engaging and effective. And by guiding you with proper form and practice, your personal trainer will ensure that your workouts are safe and help you rehabilitate old injuries that hold you back and avoid new injuries.

Motivation and accountability: Your trainer will support you on your journey by keeping you motivated and helping you keep your end goals front-of-mind. Your coach will push you to strive harder and keep going. Your personal trainer will hold you accountable even when your motivation wanes and celebrate every victory as you smash through obstacles and achieve more than you thought possible.

Whole health: your personal trainer will help you pursue wellness and health in every aspect of your life with insight on nutrition, sleep, optimal energy, and mindset.
The Rage Fitness personal training team have a variety of specializations and areas of focus. We employ a variety of training methodologies and work with clients of all levels of fitness and many different backgrounds. We are committed to educating our clients about the benefits of a healthy diet and physical activity and we aim to empower our clients with information and leadership to help them pursue any goal for health and wellness. Our comprehensive intake process allows us to ensure that you are matched with the Rage Fitness personal trainer most suited to help you meet and exceed your own goals for health.
PERSONAL TRAINERS: BUILD YOUR BRAND
If you are a certified personal trainer and looking to build or grow your own personal training brand, partner with the health and Fitness community at Rage Fitness. Benefit from the insight and experience of our team of trainers, coaches, nutritional experts, and wellness professionals, and offer your own personal clients the opportunity to train at one of Calgary's top private personal training studios and wellness centres.
Connect with the team at Rage Fitness to learn more about our contractor program by calling 1-825-945-7733 today.
Personal Training
Your health and fitness goals are extremely personal. Your journey to achieving your goals can be too. A personal trainer can create a completely customized strategy to take you from where you are right now to where you want to be with programs tailored for fitness, nutrition, and accounta
Weight Loss
Almost 50% of the North American population struggles with weight management and obesity. 50 million of these people go on diets each year. 77% of people are motivated to lose weight to improve their overall health. Only 20% of overweight people succeed in their long-t
CHOOSE RAGE FITNESS
If you are seeking to lose weight, increase your physical fitness, or transform your body and your life with a superior personal training experience try Rage Fitness, With some of Calgary's top personal trainers, the team at Rage Fitness is standing by to guide you on your journey to comprehensive wellness. Find out more by calling 1-825-945-7733 today.