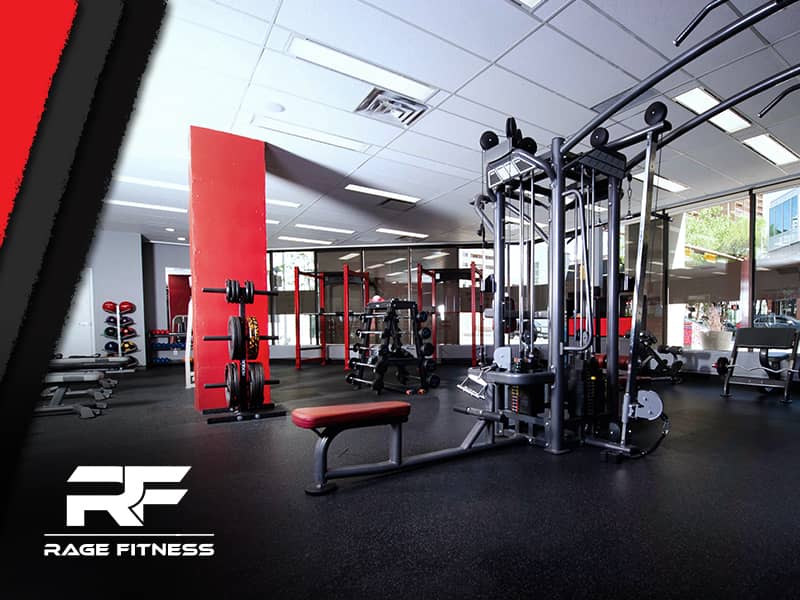 Your workouts are elevated at the world-class training facilities of Rage Fitness! Located in the beltline of Calgary, our gym is 7000 square feet and is completely private and outfitted with top-of-the-line commercial fitness equipment. Our personal training facility is home to some of the city's top trainers and we offer 24-hour access 7 days a week to meet the training schedules of even the busiest Calgarians. Rage Fitness is a one-stop-shop for all of your wellness needs with our in-house Chiro and massage partners as well as tanning services. Choose an elevated wellness experience with Rage Fitness.
Why Choose A Personal Training Studio?
Working out at home is a good option for those who cannot access a fitness centre, but there are numerous benefits to taking your workouts to a well-equipped gym facility:
A Wide Range Of Quality Equipment: Even the best home gyms can only accommodate so many pieces of large workout equipment. A training studio will offer the widest variety of workout options available. Rage Fitness boasts state-of-the-art equipment and all-new cardio machines to keep your workouts varied and exciting and to target every muscle group as you journey towards your fitness goals.
Motivation: Working with a trainer on-site provides the motivation you won't get at home. And just being in the presence of other gym-goers, even if you are working out solo, can be encouraging and become a catalyst to push yourself harder and strive for more.
Meet Great People: When you are on a journey to health and fitness, it is inspiring to surround yourself with others who are also prioritizing wellness. You can feed off of the energy and learn from others as you work towards your goals. Gyms are a great place to connect with like-minded people and build yourself a supportive community of driven and passionate people.
Access To Resources: A top training facility will offer more than just a great place to hop on a treadmill. The best gyms will offer access to a variety of resources that support you on your fitness journey. In-house trainers, nutrition coaches, health and dietary supplements, specialized classes and group training studios, and complementary service providers will round out your gym experience and help you meet your goals for wellness.
Rage Fitness is a full-service training studio with the facilities to accommodate every type of fitness training, engaging and effective classes and workout options, nutritional supports, and massage and chiropractic services. Rage Fitness is everything you need to meet your health and wellness goals under one roof!
PERSONAL TRAINERS: BUILD YOUR BRAND
If you are a certified personal trainer and looking to build or grow your own personal training brand, partner with the health and Fitness community at Rage Fitness. Benefit from the insight and experience of our team of trainers, coaches, nutritional experts, and wellness professionals, and offer your own personal clients the opportunity to train at one of Calgary's top private personal training studios and wellness centres.
Connect with the team at Rage Fitness to learn more about our contractor program by calling 1-825-945-7733 today.
Personal Training
Your health and fitness goals are extremely personal. Your journey to achieving your goals can be too. A personal trainer can create a completely customized strategy to take you from where you are right now to where you want to be with programs tailored for fitness, nutrition, and accounta
Weight Loss
Almost 50% of the North American population struggles with weight management and obesity. 50 million of these people go on diets each year. 77% of people are motivated to lose weight to improve their overall health. Only 20% of overweight people succeed in their long-t
Yes we have a mens and ladies rooms available as well as showering facilities.
Yes, we have lots of locker space, you are welcome to bring your own lock. Please note that all lockers are cleared out at the end of the day.
Yes we do, there is plenty of street parking and a parking lot on 10th ave 6th st SW.
CHOOSE RAGE FITNESS
If you are seeking to lose weight, increase your physical fitness, or transform your body and your life with a superior personal training experience try Rage Fitness, With some of Calgary's top personal trainers, the team at Rage Fitness is standing by to guide you on your journey to comprehensive wellness. Find out more by calling 1-825-945-7733 today.