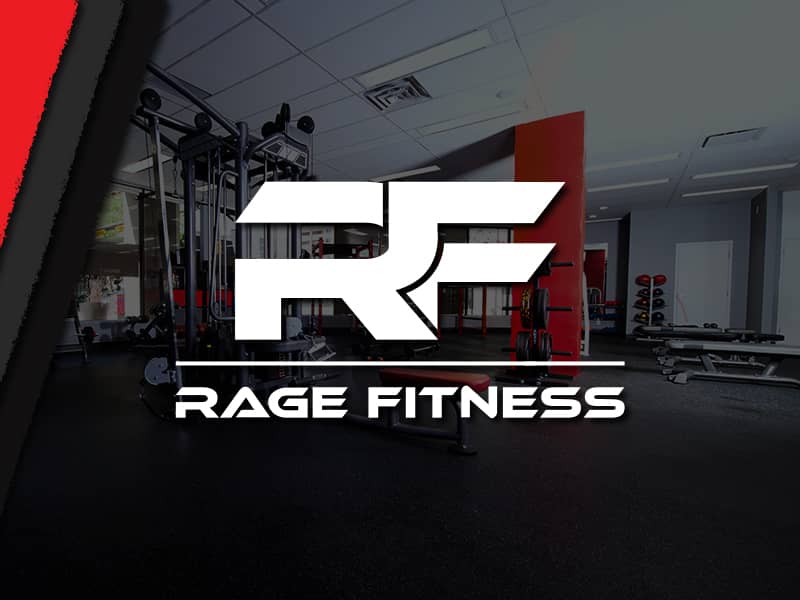 Rage Fitness is conveniently located in Calgary's Beltline neighbourhood. We are an independently-owned, boutique personal training studio.
Our memberships are for personal training only or group fitness. We offer various formats including 1-on-1, partner, small group and large group training. Our programs can be paid for as monthly subscriptions or bought as a # of sessions package to offer the greatest flexibility.
This means we can cater to your budget, lifestyle, and get you the results you crave!
Rage Fitness has humble beginnings, launched 11 years ago in a residential garage. It has evolved into a comprehensive wellness studio, built on passion, grown with hard work, dedication, and commitment to providing top personal training to those who need it most.
Rage Fitness now boasts world class private personal training facilities and some of Calgary's top personal trainers.
We have built a community of people who prioritize health and physical activity and we foster an environment where trainers and clients alike can pursue success and excellence.
Build your own personal training brand with the support of the Rage Fitness team. Benefit from our experience and insight, and offer your clients the opportunity to train in one of Calgary's largest and most comprehensive private personal training facilities. Your partnership with Rage Fitness allows you to offer your personal training clients 24/7 access to our wellness centre with:
Top-of-the-line gym equipment
Fully appointed boxing studio
40 feet of battle turf
Ropes
Sleds
TRX suspension training
Tools to measure and track your client's progress
Support services like Chiropractic care, massage therapy, and tanning services
Elevate the personal training experience for your clients by making Rage Fitness your home base.
For Calgarian Seeking The Ultimate Fitness Experience
Rage Fitness is committed to helping our clients pursue their goals for fitness, weight loss, pain, and injury recovery, healthy lifestyle, physical and mental well-being, and increased body esteem. Rage Fitness fosters an environment of inclusivity and equality and provides a safe and welcoming space for people of any background and all fitness levels. We are committed to transforming bodies and transforming lives and helping people move through life as the best version of themselves.
THE RAGE FITNESS DIFFERENCE
Rage Fitness offers a unique and elevated personal training experience within Calgary's fitness and gym landscape. We are committed to provide a completely personalized strategy as each of our clients pursue their own goals for fitness, weight loss, and comprehensive health. This is the Rage Fitness Difference.
PERSONAL TRAINERS: BUILD YOUR BRAND
If you are a certified personal trainer and looking to build or grow your own personal training brand, partner with the health and Fitness community at Rage Fitness. Benefit from the insight and experience of our team of trainers, coaches, nutritional experts, and wellness professionals, and offer your own personal clients the opportunity to train at one of Calgary's top private personal training studios and wellness centres.
Connect with the team at Rage Fitness to learn more about our contractor program by calling 1-825-945-7733 today.
The Rage Fitness Difference
Rage's private personal training studio is warm and friendly and intimidating, aggressive behaviour is not permitted. Rage Fitness is open for anyone who wants to commit to a lifestyle focussed on health and well-being.
Our clients are not just paying customers. We aim to educate and guide with thoughtful and insightful information and motivation. We will hold you accountable as you journey towards the goals we will help you set.
Are you tired of being overweight and living a limited life?
Are recovering from an accident or injury and looking to improve mobility?
Are you pursuing an aspirational goal for competition like a marathon or lifting?
Are you seeking to improve your overall health with a focus on nutrition and physical activity?
Whatever your goals for fitness, weight, and overall health, Rage Fitness has a trainer who is uniquely qualified to help you set your intentions, design a customized health journey, and guide you to measurable and transformative results. Your success is our success and we will push you through every obstacle until you reach and exceed your final goals.
There is a reason that Rage Fitness boasts high client retention and low staff turnover. It is because of the relationships we nurture and the community of people passionate about health. Come experience the Rage Fitness difference today!
TAKE YOUR CUSTOM TRANSFORMATION CHALLENGE
Are you ready to shed pounds, build muscle, improve fitness, or pursue aspirational goals for athletic competition? Transform your body, your mind, and your health with Rage Fitness! We will work with you to build a program designed to get you the results you want.
Rage Fitness trainers are ready to take you on the journey to a completely new and transformed you for 2023.
Call 1-825-945-7733 now.
For Calgary's best fitness and personal training experience choose Rage Fitness. Located in Calgary's beltline and offering one of the city's largest private training studios. Take advantage of everything Rage Fitness has to offer as a personal training client or as a personal training contract partner and join our community of like-minded and passionate individuals pursuing physical and mental fitness, healthy eating, and comprehensive wellness. Contact our team at Rage Fitness by calling 1-825-945-7733 or by filling out our contact form and experience the Rage Fitness difference.
Personal Training
Your health and fitness goals are extremely personal. Your journey to achieving your goals can be too. A personal trainer can create a completely customized strategy to take you from where you are right now to where you want to be with programs tailored for fitness, nutrition, and accounta
Weight Loss
Almost 50% of the North American population struggles with weight management and obesity. 50 million of these people go on diets each year. 77% of people are motivated to lose weight to improve their overall health. Only 20% of overweight people succeed in their long-t
THE RAGE FITNESS TEAM
Our building is a world-class facility offering top-of-the-line equipment and varied opportunities for fitness training. But the true value of the Rage Fitness difference is our outstanding team of certified personal trainers. Our trainers are committed to education and excellence and the relentless pursuit of your goals for health. Meet our superior team of trainers here.
CHOOSE RAGE FITNESS
If you are seeking to lose weight, increase your physical fitness, or transform your body and your life with a superior personal training experience try Rage Fitness, With some of Calgary's top personal trainers, the team at Rage Fitness is standing by to guide you on your journey to comprehensive wellness. Find out more by calling 1-825-945-7733 today.