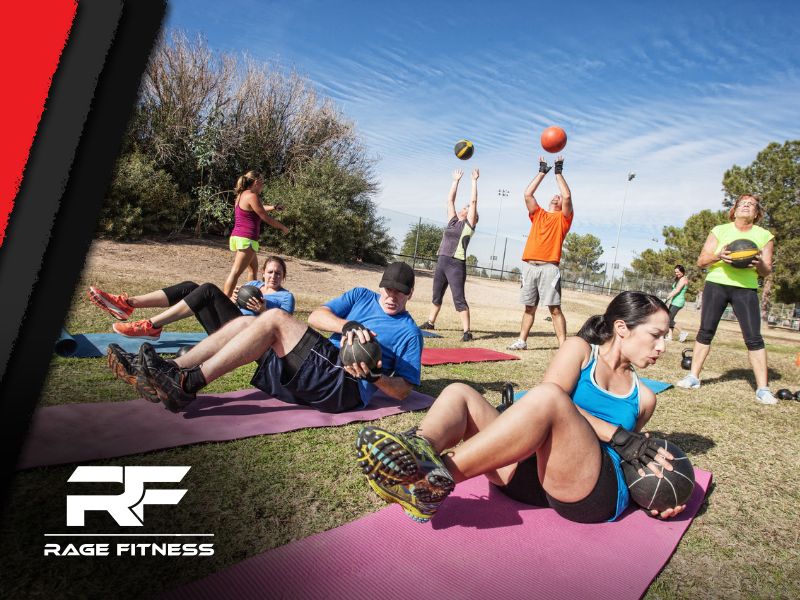 Group Fitness is your ticket to experiencing fitness in a fun way! All classes are suitable for beginners, with modifications given at all levels so you can challenge yourself.
Whether you are interested in losing weight or building muscle, group fitness classes are sure to scorch calories in a way you've never experienced!
Work out with an experienced trainer who keeps your heart pumping to great music.
At Rage Fitness, we love building healthy communities. You can meet some like-minded people at our bootcamps for added camaraderie and laughter!
Evening:
Mon to Thurs Bootcamps 6:30pm - 7:30pm
Bootcamps are a circuit style workout that combine functional training, weight resistance, cardio, HIIT, and core to create an explosive workout that will leave you sweating!
Mon Kangoo Power 7:30pm - 8:30pm
Kangoo Power is a jumping cardio class that combines low-impact shoes that reduce impact to your joints by 80%! The choreography is based on jumps and rebounds to the rhythm of the music for 40 - 60 minutes depending on the level of the class. Register for boot rentals with Karlita by calling or texting (587) 432-3541.
These group fitness classes are offered on a monthly subscription basis. $199 + GST for a group fitness pass and $25 + GST for drop-in.
Note - Kangoo Power requires an additional $5 boot rental per class.
Call or text us for drop-in availability at (825) 945-7733.
PERSONAL TRAINERS: BUILD YOUR BRAND
If you are a certified personal trainer and looking to build or grow your own personal training brand, partner with the health and Fitness community at Rage Fitness. Benefit from the insight and experience of our team of trainers, coaches, nutritional experts, and wellness professionals, and offer your own personal clients the opportunity to train at one of Calgary's top private personal training studios and wellness centres. Connect with the team at Rage Fitness to learn more about our contractor program by calling 1-825-945-7733 today.
Personal Training
Your health and fitness goals are extremely personal. Your journey to achieving your goals can be too. A personal trainer can create a completely customized strategy to take you from where you are right now to where you want to be with programs tailored for fitness, nutrition, and accounta
Weight Loss
Almost 50% of the North American population struggles with weight management and obesity. 50 million of these people go on diets each year. 77% of people are motivated to lose weight to improve their overall health. Only 20% of overweight people succeed in their long-t
CHOOSE RAGE FITNESS
If you are seeking to lose weight, increase your physical fitness, or transform your body and your life with a superior personal training experience try Rage Fitness, With some of Calgary's top personal trainers, the team at Rage Fitness is standing by to guide you on your journey to comprehensive wellness. Find out more by calling 1-825-945-7733 today.