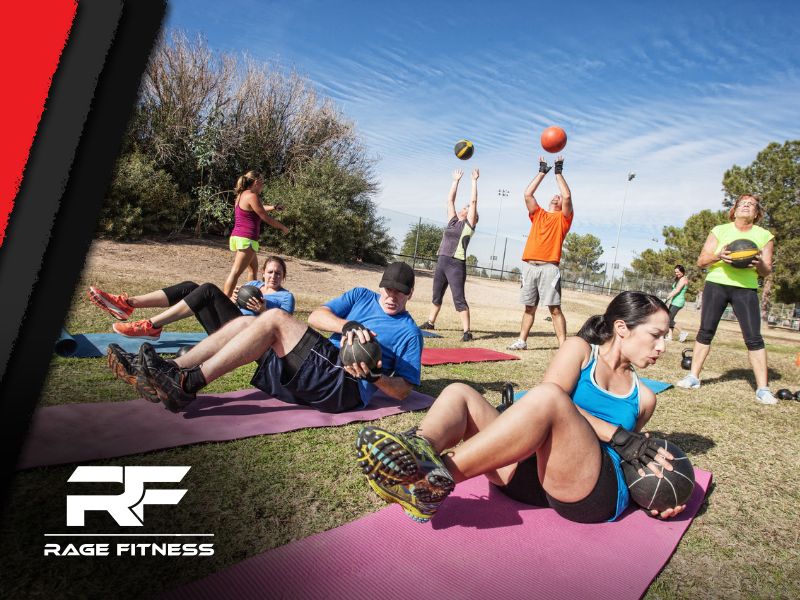 Group Fitness is your ticket to experiencing fitness in a fun way! All classes are suitable for beginners, with modifications given at all levels so you can challenge yourself.
Whether you are interested in losing weight or building muscle, group fitness classes are sure to scorch calories in a way you've never experienced!
Work out with an experienced trainer who keeps your heart pumping to great music.
At Rage Fitness, we love building healthy communities. You can meet some like-minded people at our bootcamps for added camaraderie and laughter!
Evening:
Tues and Thurs Interval Workouts 6pm - 7pm & 7:30pm - 8:30pm (Ukrainian language class)
Interval training is a high-intensity workout aimed at pumping all muscle groups. Even the deepest stabilizer muscles are involved, which play a key role in our dynamics.
Regular interval training has a positive effect on both the figure of the athlete and the internal processes of the body including the following benefits:
Increased general endurance on the muscles
Posture correction
Activation of blood flow
Improvement of metabolism
Flexibility, pumping and stretching
Strengthening the cardiovascular system
Increased speed and stamina
Improved body stability and balance
Body relief
Reduction of adipose tissue
Increase in muscle mass
Weekends:
Saturdays Morning Flow 9am - 10am (Ukrainian language class)
Morning Flow is a functional training with elements of yoga. The best way to start a weekend morning.
Exercises and asanas are aimed both at the development of plastic and at the formation of muscle strength. Special attention is paid to breath work in this practice. Exercises are performed at a fast pace while ensuring the person's breathing does not go astray.
Such training will help those who want to lose those extra pounds. In addition to weight stabilization, functional yoga is indispensable as a powerful source of spiritual strength, establishing self-control and self-confidence.
Regular yoga practice contributes to:
Muscle strengthening
Appearing and maintaining equal good posture
Improved coordination of movements
Stabilization of the nervous system
Improving the work of the heart and blood vessels
Please contact Anzhelika Teterych for more information and to register for these Ukraininan language fitness classes at tetericanzelika@gmail.com or (403) 477-4110.
PERSONAL TRAINERS: BUILD YOUR BRAND
If you are a certified personal trainer and looking to build or grow your own personal training brand, partner with the health and Fitness community at Rage Fitness. Benefit from the insight and experience of our team of trainers, coaches, nutritional experts, and wellness professionals, and offer your own personal clients the opportunity to train at one of Calgary's top private personal training studios and wellness centres. Connect with the team at Rage Fitness to learn more about our contractor program by calling 1-825-945-7733 today.
Personal Training
Your health and fitness goals are extremely personal. Your journey to achieving your goals can be too. A personal trainer can create a completely customized strategy to take you from where you are right now to where you want to be with programs tailored for fitness, nutrition, and accounta
Weight Loss
Almost 50% of the North American population struggles with weight management and obesity. 50 million of these people go on diets each year. 77% of people are motivated to lose weight to improve their overall health. Only 20% of overweight people succeed in their long-t
CHOOSE RAGE FITNESS
If you are seeking to lose weight, increase your physical fitness, or transform your body and your life with a superior personal training experience try Rage Fitness, With some of Calgary's top personal trainers, the team at Rage Fitness is standing by to guide you on your journey to comprehensive wellness. Find out more by calling 1-825-945-7733 today.