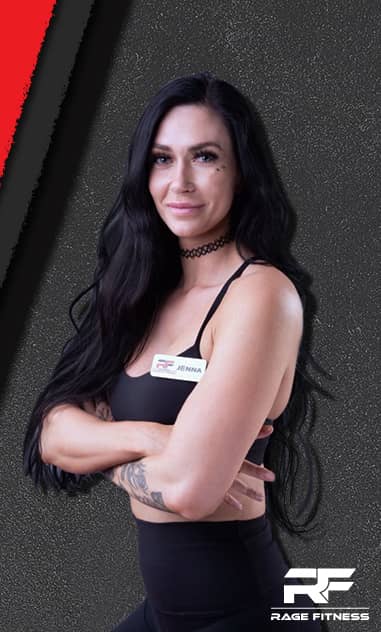 Jenna Beth
Personal Trainer
Jenna Beth is a 27-year-old Ace trainer. She discovered her passion for fitness in her early 20s and is continually growing. She is an avid weight lifter and loves to challenge herself daily to become stronger.
Fitness and nutrition have changed her life for the better in such a drastic way that motivated Jenna to become a trainer and help others achieve the same. Her goal is to help others discover a healthier, happier, stronger way of life.
PERSONAL TRAINERS: BUILD YOUR BRAND
If you are a certified personal trainer and looking to build or grow your own personal training brand, partner with the health and Fitness community at Rage Fitness. Benefit from the insight and experience of our team of trainers, coaches, nutritional experts, and wellness professionals, and offer your own personal clients the opportunity to train at one of Calgary's top private personal training studios and wellness centres.
Connect with the team at Rage Fitness to learn more about our contractor program by calling 1-825-945-7733 today.
THE RAGE FITNESS TEAM
Our building is a world-class facility offering top-of-the-line equipment and varied opportunities for fitness training. But the true value of the Rage Fitness difference is our outstanding team of certified personal trainers. Our trainers are committed to education and excellence and the relentless pursuit of your goals for health. Meet our superior team of trainers here.
Personal Training
Your health and fitness goals are extremely personal. Your journey to achieving your goals can be too. A personal trainer can create a completely customized strategy to take you from where you are right now to where you want to be with programs tailored for fitness, nutrition, and accounta
Transformation Challenge
The New Year is a great time for change and renewal. Ring in 2023 by taking control of your health, fitness, and weight and set the goal to become a better version of yourself! Challenge yourself to shed the weight and smash through the obstacles that hold you back and prevent you from liv
CHOOSE RAGE FITNESS
If you are seeking to lose weight, increase your physical fitness, or transform your body and your life with a superior personal training experience try Rage Fitness, With some of Calgary's top personal trainers, the team at Rage Fitness is standing by to guide you on your journey to comprehensive wellness. Find out more by calling 1-825-945-7733 today.