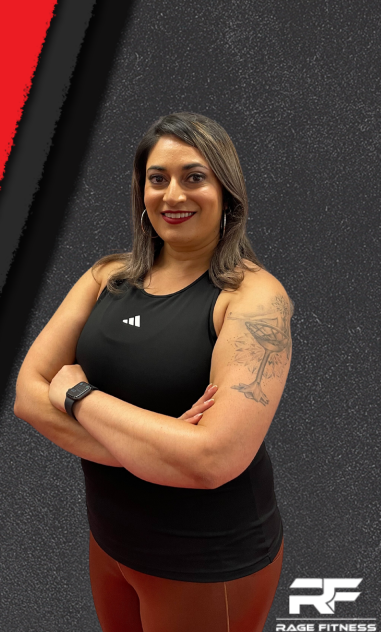 VIBHU
Owner
Vibhu took ownership of Rage Fitness in October 2022. She brings nearly two decades of experience in business operations, accounting, financial systems, and software product management. In 2022, she decided to make her passion for health and wellness come to life by changing her career path from corporate to entrepreneurship. Vibhu still serves as a Director on the board of Product Calgary, an organization dedicated to furthering product management as a career and community. She was also a long time mentor with Big Brothers and Big Sisters of Calgary.
Vibhu, like many of her clients, has struggled with body image, weight gain/loss, yo-yo dieting, fitness trends, and unsustainable lifestyle choices. She knows what it takes to be successful and she hires the most dedicated coaches in the City!
"I want to instill a desire for health and wellness into anyone who enters the facility. The goal at Rage Fitness is to make people feel welcome and free from judgement about the size or shape of their bodies."
Health isn't about looking a certain way, it is about the freedom of doing whatever you feel like in the body you have.
PERSONAL TRAINERS: BUILD YOUR BRAND
If you are a certified personal trainer and looking to build or grow your own personal training brand, partner with the health and Fitness community at Rage Fitness. Benefit from the insight and experience of our team of trainers, coaches, nutritional experts, and wellness professionals, and offer your own personal clients the opportunity to train at one of Calgary's top private personal training studios and wellness centres.
Connect with the team at Rage Fitness to learn more about our contractor program by calling 1-825-945-7733 today.
Personal Training
Your health and fitness goals are extremely personal. Your journey to achieving your goals can be too. A personal trainer can create a completely customized strategy to take you from where you are right now to where you want to be with programs tailored for fitness, nutrition, and accounta
THE RAGE FITNESS TEAM
Our building is a world-class facility offering top-of-the-line equipment and varied opportunities for fitness training. But the true value of the Rage Fitness difference is our outstanding team of certified personal trainers. Our trainers are committed to education and excellence and the relentless pursuit of your goals for health. Meet our superior team of trainers here.
CHOOSE RAGE FITNESS
If you are seeking to lose weight, increase your physical fitness, or transform your body and your life with a superior personal training experience try Rage Fitness, With some of Calgary's top personal trainers, the team at Rage Fitness is standing by to guide you on your journey to comprehensive wellness. Find out more by calling 1-825-945-7733 today.